The Last Kiss
is a remake of an Italian film I haven't seen, though one
blogger at Cinemarati
reports that the American version is similar to the original.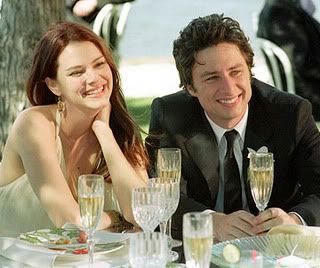 Michael (Zach Braff) is a 29 year old architect with a beautiful girlfriend named Jenna (Jacinda Barrett). Jenna's parents (Tom Wilkinson and Blythe Danner) are crazy about Michael, so everything's great right?
Jenna has become pregnant by accident; the couple hasn't discussed marriage yet because every time they do Michael "freaks out." (The hysteria behind Braff's eyes was used to great comic effect in
Garden State
, here it merely seems immature.)
So, this is a movie about fear of commitment. Michael isn't the only one who's scared, all of his friends (Casey Affleck, Michael Weston, Eric Christian Olsen) are having their own issues with settling down. Two of them eventually run off to South America in what feels like the screenwriter (Paul Haggis) throwing up his hands.
At a friend's wedding, Michael is approached by a hot college student (Rachel Bilson) who seems attracted to him for no particular reason. They begin a flirtation which leads to Michael lying to Jenna and putting his relationship at risk. I don't fault Bilson's performance, but the character has nothing to offer Michael except her body.
Here's the message of
The Last Kiss
, guys. When you hit your early 30s, you can settle down into humdrum domesticity OR have hot sex with a coeds. You can watch strippers at a batchelor party with your buddies, or be there for your wife and son. The choice is yours........