My first "Netflix This" post was about
a movie called Double Happiness
, which I hadn't seen in some time before I wrote about it. Since I'm only a part time critic/blogger I don't always have time or resources to watch things again. I stand by my recommendation of
Double Happiness
, but the film is a good bit less carefree than I remembered. The rejection of the main character (Sandra Oh) by her strict Chinese-Canadian father is actually quite painful.
Anyway, all this to say that it has also been some time since I've seen
Exotica
. My memories of it are clear though, because of the film's unique structure and lacerating sadness. Francis (
Bruce Greenwood
) pays regular visits to the Exotica strip club where he seems to have an attraction to one particular dancer (
Mia Kirshner
, pictured here in
The L Word
and playing the title role in
The Black Dahlia
). There's also a DJ (Elias Koteas), a club owner (Arsinee Khanjian), and a young girl (Sarah Polley) with strange connections to Francis.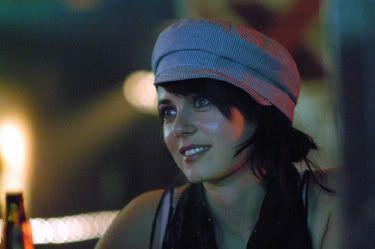 I don't want to say too much about the plot, which is told in a nonlinear fashion. I went from being confused, to unsettled, to a moment of realization, to finally feeling incredible empathy. It may not be apparent from the outset, but
Exotica
is a film about a destroyed family. It isn't Egoyan's best known film (
The Sweet Hereafter
) , but I think it may be his best.