Atom Egoyan's
Family Viewing
(1987)is an unsettling domestic comedy about the way watching and technology separates us from real life. Stan (David Hemblen) lives with his girlfriend (Gabrielle Rose) and son Van (Aidan Tierney) in an antiseptic condo. Stan is cold and remote, and Van and Sandra seem to have struck up an affair under his nose. Van doesn't have much in the way of friends or a social life; he spends most of his free time visiting his grandmother (Selma Keklikian) in a nursing home.
By accident, Van discovers that his father (who works for a company that makes VCR's) is erasing home movies to make sex tapes with Sandra. The home movies are the only way Van can see his mother (Rose Sarkisyan), who has abandoned her husband and son. Van's discovery, combined with his meeting an exotically beautiful woman named Aline (Egoyan's wife
Arsinee Khanjian
), inspires him to scheme to free his grandmother from the nursing home.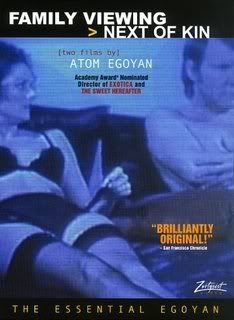 I'm not revealing all the details of the plot, some characters have unexpected connections. The first Egoyan film I saw was
Exotica
, and this early effort reminded me of that film. Both appear initially cold and sexual, but there's a heart beating underneath. The home movie sequences in
Family Viewing
depict a what appears to be a warm childhood for Van, but Stan only makes the briefest of appearances since he seems to be doing all the filming. Similarly, Stan can't make love to Sandra without a disembodied phone sex operator helping out via speakerphone, their (entirely filmed) sex life has all the rigidity of a planned performance.
There's some sleight-of-hand in the last quarter of the movie, the viewer is tempted to think of
Family Viewing
as Van's movie, but the climax of the film is when Stan's pursuit of Van and Aline (he has them filmed by a private detective) plunges him into the "taped" portion of the movie.
Tapes, voyuerism, and the contrast between family love and unconventional sexuality have been recurring themes in Egoyan's work.
Family Viewing
is an important early work by a director whose greatest work may still be ahead of him.