What was the
worst
book about film I read in 2006?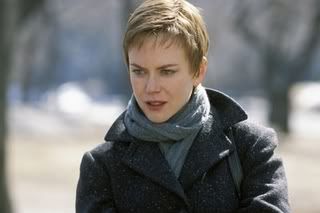 It pains me to say it, but I'd have to give the dubious honor to
David Thomson's mash note/biography

Nicole Kidman
. Thomson is of course the author of the epic
Biographical Dictionary of Film
, an essential work of subjective reference.
What's wrong with
Nicole Kidman
? Thomson writes in the voice of a man looking through a thick glass window at something he's not supposed to see. According to a postscript, Kidman was interviewed for the book; but descriptions of Kidman's behavior are simply asserted and not documented. While there are some thought-provoking chapters on various parts of Kidman's filmography (the chapter on
Birth
is especially good), the book's central flaw is that the author is clearly infatuated with his subject.
Thomson writes that the book is in part about "our response" to "being an actress and a star," but what does that mean? For Thomson it means musing on how Kidman's films might have been written differently, and most troublingly a sexual fantasy in which Thomson is cast as voyeur and Kidman is a
Belle du Jour
-style prostitute. Ultimately Thomson is able to reconstruct certain details of Kidman's life but fails utterly at his attempt to assign meaning to her career in a way that separates that career from say, Halle Berry. (Except that the movies are better).