Imagine watching a movie in which a woman prevents an elderly man from reaching his walker. Horrific, right? I've just described a scene in
The Holiday
(d. Nancy Meyers) and a bit of business between a house-swapper played by Kate Winslet and her L.A. neighbor (Eli Wallach).
The bit with the walker is actually a minor moment in the film. Winslet's character is trying to build up her new friend's strength so that he can walk across a stage unaided to receive an award. The movie as a whole barely skates by on the charm of Winslet and Cameron Diaz (as the L.A. workaholic who takes Winslet's cottage in England). By the sheer force of their personalities, these two take an insubstansial movie about women who decide they really need a vacation and then totally reorder their lives in two weeks and make it watchable.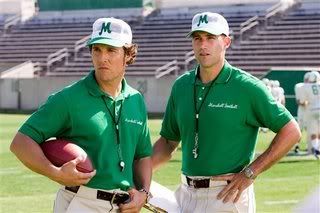 Neither Winslet nor Diaz will be mentioned for any awards for these roles, but there's something about the experience of being won over by a beautiful woman on a large screen that Netflix can never duplicate. The same sort of alchemy happens in
We Are Marshall
(d. McG), the story of how the Marshall University football program rebounded after a
plane crash in 1970
killed almost the entire team, as well as coaches and boosters.
Matthew McConaughey plays Coach Jack Lengyel, who takes a job nobody wants. McConaughey apparently based his characterization on Christopher Lloyd's character in
Back to the Future
(or maybe
The Music Man
). He plays Lengyel as a semi-crazy huckster who assembles and prepares a team on sheer willpower, winning over a coach from the pre-crash team (Matthew Fox) in the process. McConaughey provides all the film's energy, but even his eccentric and winning performance can't make up for the fact that it's impossible for this movie to have a truly satisfying conclusion. The team wins its second game back, but that's not much comfort to the father (Ian McShane) whose running back son died in the crash.