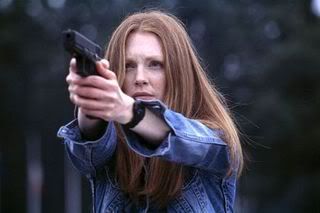 I'm a huge fan of
Julianne Moore
, a four-time Oscar nominee and one of the stars of this week's
Next
. Moore plays an FBI agent trying to convince a psychic (Nicolas Cage) to help her track down a stolen nuke. Moore (along with Maggie Gyllenhaal and Laura Linney) is an actress I long ago decided was worth seeking out no matter what the role or co-star.
That said, she really phones it in with
Next
, which spends most of its time trying to hook up Cage's character with a woman (Jessica Biel) he picks up in a diner. Moore looks great in FBI combat gear, but plays her Fed without a flicker of the wit or irony which might have made a little something out of this connect-the-dots junk. To be fair, Nicolas Cage doesn't do much better.
Don't get me wrong, I'm still a fan. But I'm writing this post for the sake of my own credibility, since if I'm not able to call my favorites on their bad choices I should just start writing about Paris Hilton. Moore has several
upcoming projects
on the docket, and I'll be there.