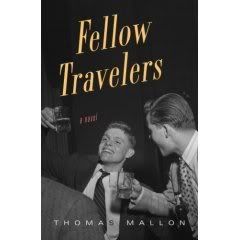 Thomas Mallon's novel
Fellow Travelers
takes place mostly in Washington, D.C. of the mid-1950s, during the rise and fall of Senator Joseph McCarthy. State Department employee Hawkins Fuller meets young Tim Laughlin by chance. After Fuller sets Tim up with a Capitol Hill job, the two begin a sexual relationship which due to the restrictions of the day is of course clandestine.
The younger Tim is overwhelmed with desire for Fuller, but the older man shrewdly keeps things at a distance. Fuller is so detached from his own inner life he even aces a lie detector test during a attempt to purge the State Department of homosexuals. Eventually Tim's religious convictions take him away from his lover and into the Army.
Thomas Mallon's novels (
Dewey Defeats Truman
,
Two Moons
) feature political and historical backgrounds, and
Fellow Travelers
offers rich details of the workday habits of government employees and lively descriptions of Congressional hearings. Mallon offers numerous theories for the motivations and behavior of McCarthy, Roy Cohn, and controversial committee staffer
David Schine
. All these historical figures make cameo appearances and Tim even encounters Clay Shaw, the shady character played by Tommy Lee Jones in the film
JFK
.
Fellow Travelers
is a deeply sad book in its recording of the casual and not-so casual prejudices of the time and its much belated granting of self-acceptance to Tim. Fuller's behavior towards Tim once the younger man returns from the Army may strike some readers as abrupt, but (like the
Sopranos
ending) it's growing on me. Fuller's choices make sense given the climate of the time. There's no author-imposed happy ending here. Look at this time in America, Mallon says. This is how it was.