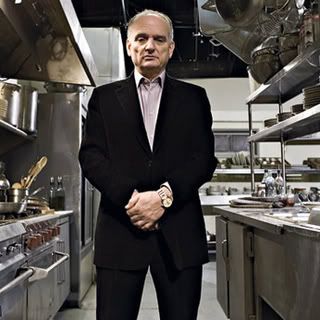 For me, this last batch of
Sopranos
episodes has been about how tired series creator David Chase is. The more cynical interpretation is that his conclusion to the series is him having fun at the expense of his audience, but I see instead an attempt to put the show in relief against something larger.
Remember how in the beginning Tony and the boys frequently joked about
The Godfather
and other pop-culture portrayals of Italian-Americans? No one has done that for some time; this year we got A.J. driven to the point of suicide by the news of the world and direct references to the war on terror and the U.S. political scene. Because A.J. was the character delivering this point of view, I think that many critics either tended to dismiss it as filler or misread it as a commentary on Tony's lifestyle. But I think Chase may have had a bigger picture in mind. Note the "Karl Rove dancing" and "Bush with South American musicians" footage that was shown on a T.V. in last night's episode. I haven't seen anything on this but I'm assuming that at some point a decision had to be made to insert that footage after the episode had already been written and shot.
The conclusion to the Tony-Phil "war" was a bit of grotesque slapstick, with Phil being shot and then crushed by his SUV in full view of the public at a gas station. Has there ever been a good scene in a film or TV show involving spontaneous vomiting? The perfunctory and not entirely credible wrapping up of the Melfi-Tony relationship is perhaps Chase's most authoritative statement of a worldview, since Tony seems doomed not to gain even a whisper of self-knowledge. It also lends credence to the view that Melfi may not actually be a good therapist, pushing the "Chase hates therapy" idea.
The final Soprano family meal is at what appears to be a faux down market diner, and I couldn't help thinking of another season finale that concluded with a meal in the familiar confines of Vesuvio's. Look how far these characters have fallen, Chase seems to be saying. Although they surely could have afforded on a literal level to go to Vesuvio's, the bloodbath and the specter of indictments has pushed the family outside its comfort zone.
For me the perfect
Sopranos
finale would have been the episode in which Tony has to walk home after escaping the feds at Johnny Sack's house, with the callback to the "bear in the woods" from earlier that season. The image of Tony emerging from the woods to be welcomed home by Carmela said more about the duality of his life and the lengths he would go to protect it than anything we've been given since.