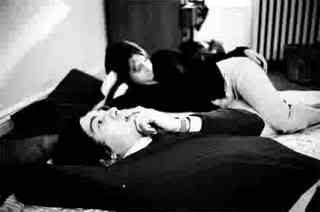 Mutual Appreciation
(2005, d. Andrew Bujalksi)
I
wasn't too kind
to Andrew Bujalski's
Funny Ha Ha
, a film which I thought gave far too much credit to its protagonist's ennui-filled meanderings. Bujalksi's second film
Mutual Appreciation
is a far superior effort, a film that displays the director's maturation both as a writer and behind the camera.
Alan (Justin Rice of the band
Bishop Allen
) has moved from Boston to New York to pursue his music career. He finds himself thrown together with an old buddy named Lawrence (Bujalski) and Lawrence's girlfriend Ellie (Rachel Clift). Bujalski takes a big step forward in
Mutual Appreciation
by giving his characters jobs and goals, something which the characters in
Funny Ha Ha
were sorely lacking. Alan's plans for a show and recruitment of a drummer (Kevin Micka) drive the early scenes of
Mutual Appreciation
, and the film's first act climaxes with a successful (if sparsely attended) performance.
When Alan connects with a music biz player named Walter (Bill Morrison) at the gig, I thought we were in for a low-rent
High Fidelity
. But the momentum breaks up when Alan heads over to Walter's pad for a long, pot-heavy, evening after the show. There's an awkward encounter with a female admirer (Seung-Min Lee) and a phone call to an ex-girlfriend. It's to Bujalksi's credit that these scenes feel genuinely uncomfortable, but Alan and everyone else are so inarticulate and soulful that it's at this point
Mutual Appreciation
goes up in a puff of smoke.
The other major plot line involves the attraction developing between Alan and Ellie, the revealing of which is played with all the delicacy such a moment would actually have. Ellie confesses her feelings to Lawrence, but a scene that feels headed for some ugliness is cut short. Bujalksi may be the best actor in his films, but here he's on the side in a subplot about teaching and performance art that doesn't go anywhere.
What does it all mean? Not very much, I'm afraid. In Bujalski's world, smart and sensitive young people spend a great deal of time not knowing what to do with themselves or talk about their feelings without stammering. In his next film Bujalski should trust himself more and let his characters drop the veil of detachment they're carrying around. Bujalksi has grown as an editor;
Mutual Appreciation
has some slack but is a much tighter film than its predecessor. Here's to the Mumblers, and here's to growing up.