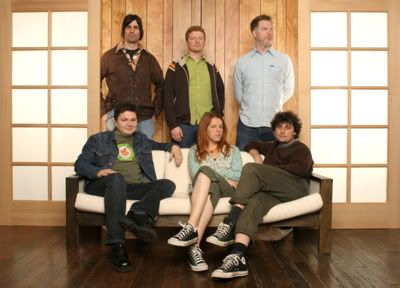 No great commentary or insights here. This post is more in the nature of a lament that I haven't been able to do a better job writing about music on this blog. Yes, the name is "Mostly Movies," but I always wanted this site to be an account of whatever was exciting me at any given moment. A couple of years ago I wrote an as-yet-unproduced romantic comedy screenplay about a love triangle between a record store owner, an art teacher, and the leader of an indie rock band. The character of the rocker was vaguely inspired by a woman I knew who worked as a cashier at a health food store. She wore her hair in great red dreadlocks and had a real "indie rock look," whatever that means. In my head the music that the fictional band played sounded something like Throwing Muses, and of course was wildly popular.
Writing that script somehow made me more aware of music again. I started seeking out new bands on advice from friends, family (my sister turned me on to
The New Pornographers
, pictured above), magazines, whatever. I had gotten out of the habit of looking for what was new and just keyed in on following the same artists I had been listening to forever. It was like being a freshmen in high school again, when I went (almost literally) overnight from Casey Kasem to R.E.M.'s
Document
with just a brief layover in classic rock along the way. I was pleased to discover there's a pretty broad subgenre out there of what I believe is now called "adult alternative" music, with several smaller umbrellas crammed underneath.
I like to imagine that all these Adult Alt (AdAlt?) fans are people like me in their early 30s who were always the ones seeking out the most interesting stuff in music, film, books, whatever. But of course that isn't true. I'm not going to be the millionth person to write about the democratizing influence of the Internet. it's easier than ever to discover new music, blah, blah, blah. But why does it still feel like I'm in on a secret? Britney Spears, Timbaland, The Fray, whatever; VH1 and Rolling Stone are marketing to someone else and are more interested in the buying power of the audience than hipster elites.
It actually wasn't my intention to write about how corporate music stinks, forgive the digression. As I write this I'm listening to
"The Bleeding Heart Show"
by the aforementioned New Pornographers. You've probably heard it in movie trailers or commercials. I want to write about why it resonates with me, and the same for songs like "The Underdog" by
Spoon
(geeky yet soulful) or "These Girls" by
Ryan Adams
(fragile, reminds me of a friend). What I'm really talking about here are the limits of language. I can describe these songs with words that are in effect a code, they have meaning only to me. You the listener can't really know what I mean, and when you hear the song I'm talking about it's certain to hit you in an entirely different way.
This entire post is a very long way of saying that in the interest of continuing to make Mostly Movies more personal (a quest I've been on since this summer) I'm going to try to blog a bit more about the music that moves me. It will be subjective and messy at times, so bear with me and feel free to weigh in. Sitemeter tells me that the number of people visiting per day is steadily increasing, so thank you. It's good to know that this weird mix of stuff I'm putting up on an irregular basis is connecting with someone.