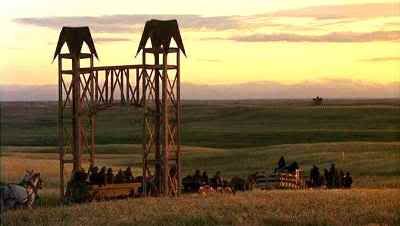 A few notes:
If I Am Legend hadn't starred Will Smith and had a whole December release week to itself I probably wouldn't have seen it. Sci-fi and apocalyptic horror aren't usually my thing. But I thought much of the film was pleasantly tense, especially the sequence in the dark building when Smith is looking for his dog. I'd agree with those who say the introduction of the vampires is a bit of a letdown, and others have pointed out that not enough is made of the fact that the vampires are capable of learning. Two questions: why was Smith's character more capable than anyone else of stopping the virus, and wouldn't the military have ordered him out of Manhattan so he could work? (The Emma Thompson cameo was a welcome surprise)


DVDs: If there's a director whose work needs the Criterion treatment it's Terrence Malick. One down, three to go Criterion. If you know Malick's work then you know that at its best the marriage of sound, image, and voice-over narration is sublime. "How did he think of that?" is the obvious question. So it's refreshing to hear on the commentary track (by the editor, production designer, costume designer, and casting director) of the new Days of Heaven that the process of wedding the tough street-kid narration of Linda Manz to the images involved plenty of trial and error. A story about the apocalypse that Manz's character relates early in the film was apparently the her version of a Bible story told to her by someone she met on the film's Canadian set. Manz repeated it to Malick, who recorded it and found a place in the film for it. Part of the reason for the years spent editing the film was the difficulty in deciding what narration went with what scene. It's inspiring to think of Malick (no American director gives less of a damn about the audience) making choices, having them not work, and trying something else.


Is there a lovelier face in American movies than that of Elizabeth Reaser (see left hand column), star of the indie Sweet Land? Ali Selim's drama of a German immigrant's (Reaser) arranged marriage to a Norwegian (Tim Guinee) in
post-WWI Minnesota. Sweet Land avoids period-piece nostalgia by having a double framing device involving an older version of Reaser's character (Lois Smith) relate her history to her grandson and then an older version of that grandson decide whether to sell his grandmother's home. Most people know Reaser as the disfigured amnesiac on Grey's Anatomy, she has also appeared in The Family Stone, the bisexual romantic comedy Puccini for Beginners, and an episode of The Sopranos.