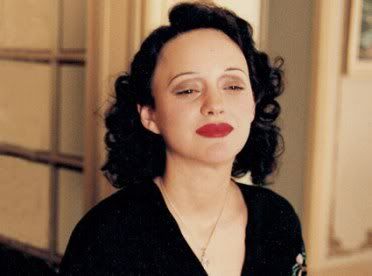 After having watched Marion Cotillard's Oscar-nominated performance as Edith Piaf in
La Vie En Rose
, I can't help wondering if we give too much credit to actors who play real-life musicians and lip sync. The acclaim for Cotillard's performance is understandable; her energy carries a movie that suffers from its nonlinear narrative structure, and there are enough bravura scenes (collapsing at concerts, learning of the death of her lover) to capture the attention of any Oscar voter.
Cotillard lip syncs to Piaf's songs very well, but when she opens her mouth and Piaf's sounds come out I have the same reaction that I did to Jamie Foxx in
Ray
. I'm not watching a character but rather Ray Charles' Greatest Hits, with dialogue in between. There is somethin about hearing those already canonized voices come out of the mouths of vital actors that washes the drama right out of the movie, no matter how strong the rest of what's on screen is.
The one recent biomusical that didn't have this problem was
Walk The Line
, in which Joaquin Phoenix and Reese Witherspoon did their own singing. The film certainly has flaws, but the energy that actors singing provides makes it much better than
Ray
in my opinion. The early scenes of Cash, Jerry Lee Lewis, and others performing to a packed house have a real kick, because we're watching an attempt to convey what it felt and sounded like at the beginning as opposed to a too-perfect recreation of moments that became iconic in restrospect.
I've nothing against the performances of Foxx or Cotillard in other respects (though I'm not wild about Foxx's post-
Ray
output), but their films cater to our desire to hear the end product (familiar versions of old hits) when we're watching a musical biography. Wouldn't it be more interesting to hear what Famous Song X sounded like before we heard it?