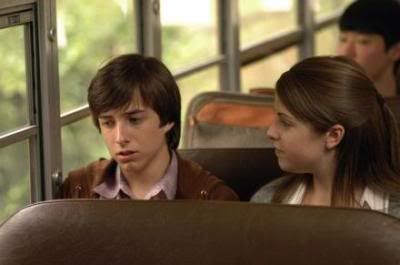 Rocket Science
(d. Jeffrey Blitz, 2007)
If you're like me and have a retrospective appreciation for the joys and pain of high school while being firmly comfortable with the age you are now, then the gently life-affirming
Rocket Science
(just out on DVD) may be the movie for you. A plot summary may not do it justice - an awkward boy named Hal (Reece Thompson) falls in love with a type-A girl named Ginny (a brain instead of a babe, played by Anna Kendrick) while dealing with both a speech impediment, the debate team, and a chaotic home life featuring divorced parents and a kleptomaniac brother (Vincent Piazza). This sounds like a recipie for
Napoleon Dynamite 2
, but Blitz subverts all our expectations of the high-school drama and creates a genuinely bittersweet movie that cuts deeper than most of its kin.
The movie is framed by the comments of an omnisicient narrator (Dan Cashman) who in the opening moments frames the nervous breakdown of Ginny's debate partner Ben (Nicholas D'Agosto) as a potentially life-changing event for all concerned. The narration keeps a similar tone as we move on to Hal's attraction to Ginny and clumsy first steps on the debate team. (Ginny's motives for recruiting Hal aren't immediately apparent) What's great about putting a frame around the relatively familiar events of the plot - characters include an eccentric Asian neighbor and a sexually fixated preteen who exchanges one-finger salutes with Ginny through their windows - is that it adds that layer of self-dramatization that's not just exclusive to teen characters in movies.
All teens think they're the leading characters in their own play, and as we watch Hal stumble towards a showdown with Ginny at the state debate championships we can't help feeling that more rides on the outcome than just a trophy. It even makes the stutter, which I would describe as more of a stammer, seem highly metaphorical. It couldn't possibly have been that bad, right? The right person can change your life at the right time, even if you're not both acting out parts from a romantic comedy. I also have to mention the lilting musical score by Eef Barzelay, which further puts Hal in his own world. There are songs in the movie as well; isn't it time we put an end to filmmakers' use of the Violent Femmes' song "Kiss Off"? Blitz's heightened version teen life got him a deserved directing award at Sundance last year, and I hope his voice doesn't lose its originality or clarity.