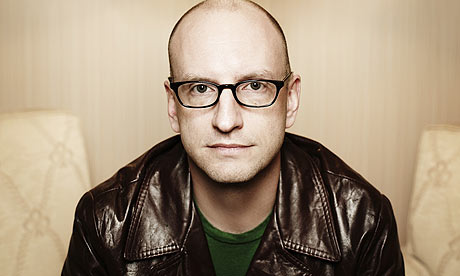 Steven Soderbergh
talks about Side Effects
, his turn to painting, and what has changed in Hollywood since his career began.
Q: Your 1999 book, Getting Away With It, is a combination of your own diaries from that time and interviews with director Richard Lester, whose films—like A Hard Day's Night and The Knack … And How to Get It—were major influences on you. At one point you complained to him: "I feel like a codger saying 'It's never been this bad,' but I really think it's never been this bad … People who make dumb movies that make a lot of money are now treated with the kind of respect that used to be reserved for people who made good movies." You must be apoplectic now.
A: It's true that when I was growing up, there was a sort of division: Respect was accorded to people who made great movies and to people who made movies that made a lot of money. And that division just doesn't exist anymore: Now it's just the people who make a lot of money. I think there are many reasons for that. Some of them are cultural. I've said before, I think that the audience for the kinds of movies I grew up liking has migrated to television. The format really allows for the narrow and deep approach that I like, and a lot of people … Well, the point is, three and a half million people watching a show on cable is a success. That many people seeing a movie is not a success. I just don't think movies matter as much anymore, culturally.