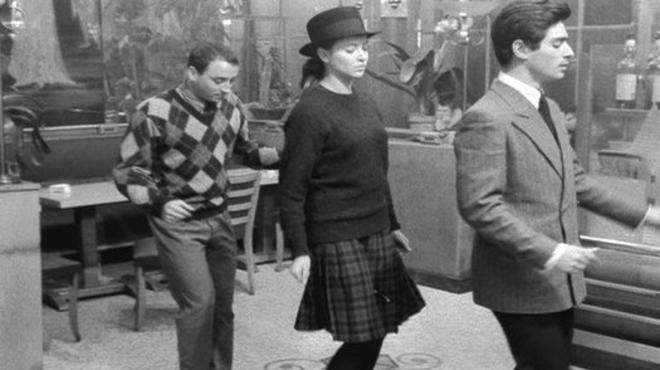 Must character only be revealed through behavior?
This tribute
to the iconic dance scene in Godard's
Band of Outsiders
includes some rare behind-the-scenes footage. Follow the links for a clip from Hal Hartley's
Simple Men
, a favorite of mine that owes Godard a debt.
Here
is my 2011 post on
Band of Outsiders
. (Front Row)
For that matter, it distinguishes the scene from so many scenes in so many films where so many filmmakers are so concerned with bringing out their characters' emotions solely by means of action. The fussily naturalistic framework of most movies by most filmmakers is more or less rendered obsolete in advance by this little scene. Filmmakers unwilling to break the sacrosanct continuity of action compel themselves to reveal character through action—and little is more tiresome in movies than scenes showing action that is supposed to reveal some aspect of character. That's why many movies—and many wrongly hailed—give a sense of being constructed as illustrations of script elements, the connections of dots planted in just the right place to yield a particular portrait. Godard's example is as much a lesson in substance as in style—in composition through fragmentation, in expression through directness and audacity, of artistic impulse combining with necessity as a means to enduring innovation. Whatever an experimental film might be, this sequence is one—it's an experiment the discoveries of which have yet to be fully assimilated by the world of filmmakers, almost half a century later.