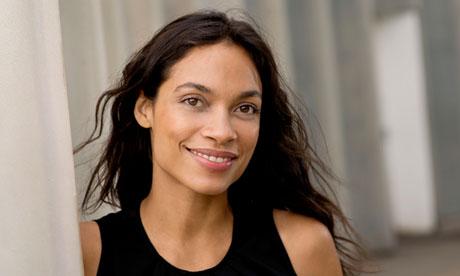 A
good salute
to the still-ascending career of Rosario Dawson, whose list of credits is both longer and more varied than I'd realized. Favorite Dawson roles:
25th Hour
,
Death Proof
, and
Unstoppable
. Dawson will soon appear in the promising Danny Boyle film
Trance
.
The story of Rosario Dawson's discovery speaks to her enduringly cool credibility as an actress. A New York native who grew up in Manhattan's Lower East Side, Dawson had only a Sesame Street appearance under her belt when she was spotted, on her stoop, by budding director Larry Clark, who, at the urging of then-fledgling screenwriter Harmony Korine, went on to cast her in Kids. She was 15.