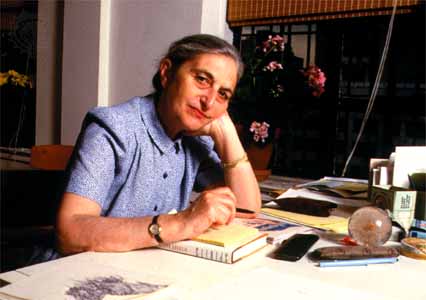 The online community of film lovers is mourning the deaths of
Roger Ebert
and
Ruth Prawer Jhabvala
today, two very different writers whose lives were arguably even more interesting than the work they produced. I've been aware of Ebert since a young age of course, seeing him argue with Gene Siskel on PBS and at some point (when I read a book he wrote on covering the Cannes Film Festival) becoming aware that being a film critic was something one could do for a living. Later, when Ebert got sick and lost his voice, we got to know a different man. Ebert was a warm-hearted liberal with a huge sense of the world's possibility, and writing his blog for the Chicago Sun-Times seemed to open him up. To say nothing of his
Twitter feed
. Ebert's writing on the joys of Twitter connections marked the only occasion I have taken someone else's suggestions on whom to follow, and I'm glad I did. Ebert's memoir
Life Itself
is a revelatory read, a happy account of his childhood, college years, world travels, and days working in a newspaper-centric town. Even the later chapters on illness have Ebert's thirst for experience. The book unlocks the decency at the heart of Ebert's criticism, which has probably influenced my own writing more than I've realized until now. I don't know if Ebert saw
Spring Breakers
, but when I wrote about the way even this supposedly transgressive movie treats its women I think I was catching something that Ebert would have noticed. I will always appreciate Roger Ebert the critic, but I'm very happy that through his personal writing I got to know Ebert the man.
My connection to Ruth Prawer Jhabvala, the only woman two win two Oscars for screenwriting (
A Room With A View
,
Howards End
), is a little more tenuous but no less meaningful. When Merchant Ivory films hit their peak of popularity in the early 1990's it was still unusual for them to play in my local South Carolina theater. In order to see
Howards End
it was necessary to go to a single-screen theater (now closed) in Atlanta, an experience my mother treasured long afterwards. (Thanks to her I also saw
Clerks
at the same theater.) My mother died in December, but she always loved the richly human period films that Jhabvala wrote and she never lost her pleasure at being surprised by all kinds of movies. She laughed uproariously at
Knocked Up
and thought the ending of
Juno
hid an uncertain future for the baby. She also read at least one of Jhabvala's novels, which I haven't. The obituary I linked to above suggests a life filled with travel, family, and an enviable artistic purpose, and I look forward to discovering more of the work that consumed Jhabvala's life. I'm also excited to see what direction my criticism might take in years to come, and I have to thank Roger Ebert for helping start me on that journey. Gifts can be given long after someone is gone.