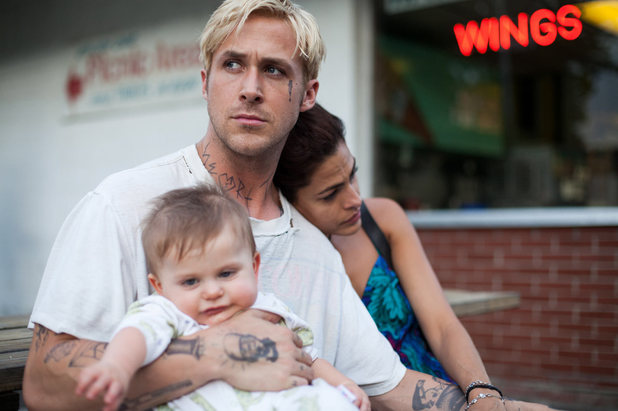 I don't know what the favorite films of
The Place Beyond the Pines
director Derek Cianfrance are, but if I had to guess I would say that he has an affection for the celebrated American movies of the 1970's.
Pines
, like Cianfrance's previous
Blue Valentine
, is emotionally complicated and seems to have been created in a different world than the one that pushes out Hollywood films with likable characters and predictable endings. Finding today's films inferior to those of the past isn't the most original form of criticism, but Cianfrance is marked as man out of time by more than just his films' lack of Hollywood sheen. We are watching an artist find his voice.
Blue Valentine
was a raw piece of chamber music about two people running out of love, but in
The Place Beyond the Pines
Cianfrance displays both a larger reach and a stronger grasp.
Pines
is a structurally unusual film that asks large questions about what fathers give to their sons and the extent to which escaping the limits of one's parentage is really possible. Cianfrance has gone beyond the promise of his previous work with a film of real ambition and consequence.
We are in the small towns of upstate New York, and in the lives of working-class people. Luke (Ryan Gosling) works at a traveling carnival and is part of a motorcycle attraction that involves challenging the laws of physics in a round metal cage. A chance encounter with Romina, a former fling (Eva Mendes, very good as a woman clinging to a hard-won dignity), leads to the revelation that Luke is the father of a baby boy named Jason. Luke wants to change his life and be a provider to his family, but Romina has another man (Mahershala Ali) and Luke has neither the money nor the skills to be a reliable presence in his son's life. Luke isn't very articulate for the first few minutes of
The Place Beyond The Pines
, and I was worried that Cianfrance was going to turn Luke into a fetish object of the sort that Gosling played in
Drive
. Thank goodness for Ben Mendelsohn; he gives
Pines
a great jolt of energy as Robin, the new friend who gives Luke a job and a place to stay as well as the impetus towards a career in robbing banks. If you've read anything about
The Place Beyond The Pines
then you know that the culmination of Luke's criminal career brings him into the orbit of Avery (Bradley Cooper), a Schenectady cop with a wife (Rose Byrne) and a young son of his own. It is at this point that Cianfrance reveals what he has in mind, since Avery takes over as the main character for the next segment of the film. Watching
The Place Beyond the Pines
is like reading short stories that are set in the same world, one where fathers continue to leave their sons feeling rudderless. Luke and Avery couldn't be more different, since Avery is educated with a stable home life. But Avery also has a father (Harris Yulin) who expects something out his son that Avery doesn't know if he can or should give.
Pines
is my favorite Bradley Cooper performance to date; his energy is
Silver Linings Playbook
was what was required, but here he displays a sense of confusion and frustration about what his life should be that cuts deeper than anything that I've seen from him before.
The central section of
The Place Beyond the Pines
is where the film does sag a little. Avery draws the attention of some dirty cops led by a detective (Ray Liotta, who plays this type of role better than anyone these days) who is looking to enlist Avery as an ally. The choice that Avery makes reveals that he is more like his father than perhaps he even knows. As good as Liotta is I wish that the details of police corruption had been detailed a bit better; these scenes feel a little too much like an engine that drives Avery to where Cianfrance needs the character to go. Fifteen years later Avery is a politician and we're into the film's third act. Luke's son Jason (Dane DeHaan) and Avery's son AJ (Emory Cohen) attend the same high school, and while the particulars of what happens to them may not be hard to anticipate the story of the two young men dovetails with what has come before. Both Jason and AJ feel the absence of their fathers even as they are walled in by their choices. In Jason's case, despite a supportive stepfather, Luke's life is a sort of unavoidable mystery that he can't stop trying to solve. Dane DeHaan is excellent as Jason and easily as strong as his more established adult cast mates. Jason is someone who doesn't know how smart he is, and DeHaan makes that intelligence bang up against the limits imposed on Jason from the outside.
The Place Beyond the Pines
ends with an open road and Bon Iver on the soundtrack, and it leaves one thinking about the things we can't escape no matter how far we travel. It is a wonderfully ragged film, roiling with heart, and it marks Derek Cianfrance as a major presence in American filmmaking.