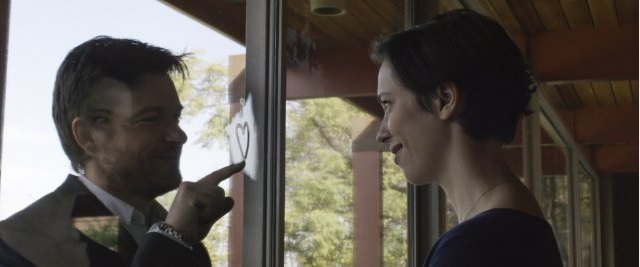 Anyone watching the trailer for the new thriller
The Gift
might be forgiven for thinking that the film looks like an update of '80s and '90s genre pictures. You know the ones, films like
Pacific Heights
,
Single White Female
, or
The Hand That Rocks The Cradle
in which menace enters the lives of innocents in the person of a vengeful or mentally ill stranger. What
The Gift
- written, directed by, and co-starring Joel Edgerton - gets right is the way it challenges our expectations of who the innocents are and where the menace comes from. Simon (Jason Bateman) and Robyn (Rebecca Hall) have relocated to Los Angeles from Chicago for Simon's job in the security industry. A throwaway line early on reveals that for Simon the move is a sort of homecoming. The fact that he's from the area is important and the casual nature of the reveal shows the confidence Edgerton has in his control of information. The house that Simon and Robyn move into has plenty of windows and a gorgeous view, and Edgerton is very adept at using the space to create tension. (There's always a feeling someone could pop up at a window or around a corner.) One day in a store Simon is approached by Gordon (Edgerton, excellently creepy), who says he and Simon went to high school together. Why does Simon seem so nervous?
As Gordon's gifts and visits become more unsettling,
The Gift
slowly begins to work on challenging our sympathies. Simon's abrupt dismissal of Gordon's awkwardness would seem to mask a deeper problem, while the gradual revelation that Robyn is recovering from painkiller addiction introduces the idea that her nervousness at being home alone is psychosomatic. Edgerton's script is very well structured, it slides into Scenes from a Marriage and then back again beautifully, but it wouldn't work if Jason Bateman didn't commit to playing a jerk. Simon seems to get what he wants - a pregnant wife, a promotion at work - with relative ease, but when the film starts to turn against him the Bateman's series of small, specific acting choices take on a new meaning. Rebecca Hall is equally good, giving depth to what could have been a one-dimensional role. The final revelations of
The Gift
are remarkable for their economy; having someone watch a DVD isn't a standard thriller climax. But the skill with which the film turns tables and settles scores is remarkable in its thoroughness, and I admired the way one character's sympathies are left a mystery at the end. The roiling emotions of
The Gift
make for a bracing surprise. Joel Edgerton's directorial debut is a vital performance of a familiar tune.