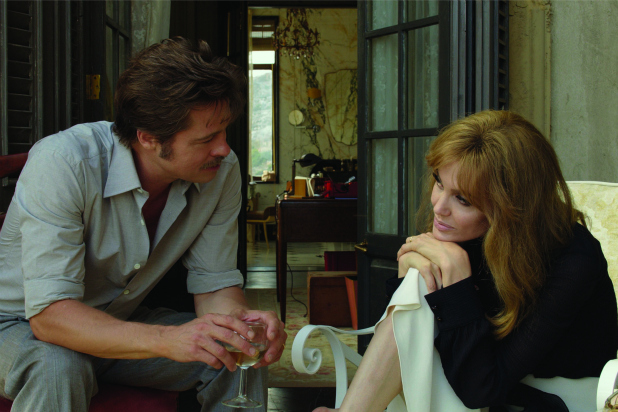 I wonder if back in the heady days of
Tomb Raider
anyone could have guessed what a chilly director Angelina Jolie would turn out to be.
Unbroken
was a dull film of a great story, and in
By the Sea
Jolie (who here wrote and directed under the name Angelina Jolie Pitt) goes the High Art route in telling a story of a failing marriage. Roland (a game Brad Pitt) and Vanessa (Jolie) arrive at a French seaside hotel - we're sometime in the late '60s/early '70s - where Roland hopes to do some writing. Is Roland a successful writer who's blocked or merely an someone with aspirations to greatness? Good luck figuring it out, because the film fails to convey anything about the act of writing. Vanessa is unhappy for reasons which aren't revealed until late in the film but which aren't hard to guess. Roland's writing sessions turn into drunken conversations with a bartender (Niels Arestrup) who also serves as a Dispenser of Truth while Vanessa alternately sulks, reads, and spies on the honeymooning young couple next door.
That's right, honeymooners next door. Is
By the Sea
Jolie's attempt to write an Albee play? This insistently theatrical conceit finds Vanessa and Roland playing voyeur while Lea and Francois (Melanie Laurent and Melvil Popaud) enjoy the first days of their marriage. While Jolie's performance contains some moments of touching vulnerability, her script leaves Vanessa a mystery in the end. An extra on the DVD suggests that Jolie regards Gena Rowlands as something of a guiding spirit. Excellent choice, but
By the Sea
only brushes up against the volatility of Rowlands' greatest work. Jolie can direct, but here's hoping her next film has more fully fleshed out material.