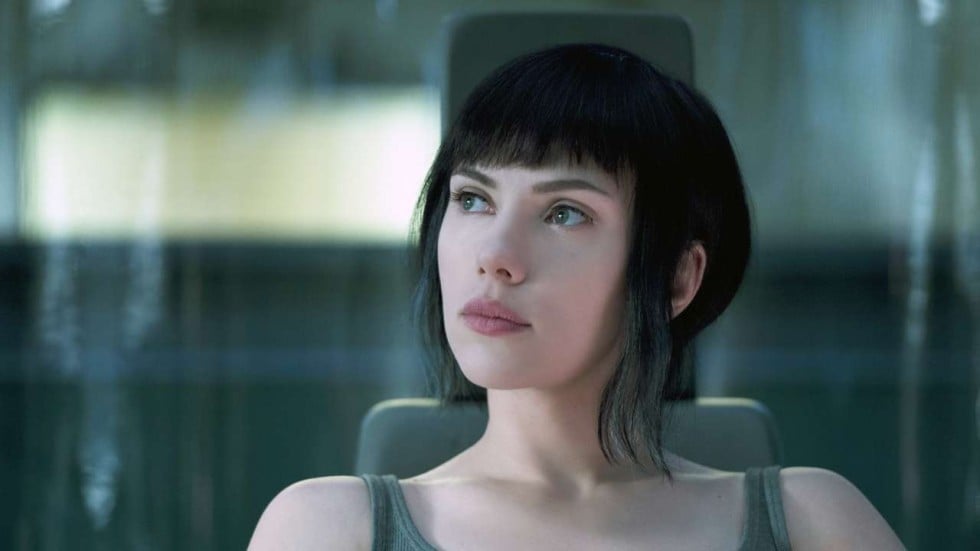 The new
Ghost in the Shell
arrives as a "problem" film, in this case one in which discussions of representation and appropriation subsume any evaluation of what's actually on screen. Based on the 1995 anime, the new
Ghost in the Shell
has been on the cultural radar since the casting of white American Scarlett Johansson as Motoko Kusanagi. Motoko, known as "Major", is a mechanized human (a human brain in a constructed body) working as a police officer in near-future Japan. In the new version Major and her team report to Defense Minister Aramaki ("Beat" Takeshi Kitano, a major cultural figure in Japan) and work to fight illegal hacking of modified humans. Major's closest relationship is with Doctor Ouelet (Juliette Binoche), the corporate scientist who designed her and serves as mother figure, but Ouelet's boss Cutter (Peter Ferdinando) views Major only as a weapon and a product.
Ghost in the Shell
is working with some fairly sturdy genre tropes about the individual lost in a world where technology encroaches on humanity. There are also ideas about corporate-sponsored authoritarianism in play, though a weird distinction is made between Cutter and his company (evil) and the government (benign) as represented by Aramaki. What director Rupert Sanders and his writers can't do is put us inside the head of someone who doesn't understand what it means to be human. It's a high bar to clear, and we're told repeatedly that Major feels disconnected not only from herself but from those around her. But when Johansson (who plays Major with the correct sense of looking down at herself) walks down the street she could just as well be her character from
Lost in Translation
. There's a brief interaction between Major and a sex worker (Adwoa Aboah) that feels as if it could go somewhere, but Sanders cuts away as if he were afraid of the moment. What sense there is of Major's distance from the world comes not from writing or acting but largely from design. The urban Japan of the future, seen mostly in daylight to avoid any
Blade Runner
-style sleekness, is dingy and crowded. If there is space between buildings it is taken up with giant holographic ads, and there's a sense of Major as one more cog in an always humming machine.
Major and her partner Batou (Pilou Asbaek) are in pursuit of a hacker named Kuze (Michael Carmen Pitt) who is killing scientists that work for Cutter's company. The unfolding of Kuze's true purpose and of his connection to Major is the most rushed and uncertain part of
Ghost in the Shell
. There is a mention of an alternate computer network, but it's never explained, and Pitt doesn't get much time to develop a character. Sanders runs into trouble with the revelation of the past that Major and Kuze share. The memory is staged in hazy semi-darkness so Sanders can avoid having to show young Kuze and Motoko as Japanese children, but that choice costs the moment any emotional resonance. That's right, Johansson and Pitt are playing Japanese people kidnapped as children whose brains have been put into constructed white bodies. It's an awkward fact that the film gets around as quickly as possible, though one of the strongest scenes involves a moving Kaori Momoi as Motoko's mother.
It is hard to argue that cultural appropriation within a text mitigates the cultural appropriation of the text's existence, but the absurdity highlights what I think is a somewhat misplaced outrage. Of course white people shouldn't play Japanese people, but
Ghost in the Shell
concerns a specific universe in which to some humanity is less important than social control. (Draw any parallels to 2017 at your own risk.) "Major" is a construction, a product, and it's as easy to imagine Cutter (a white man) making a thousand more white versions to sell all over the world as it is to imagine him building Japanese or black versions as needed. I don't believe that Johansson's casting is objectively a good or appropriate thing, but it does serve a function within the argument that
Ghost in the Shell
is making about how it's becoming easier for people to be used as parts in a machine. The "Ghost" of the title refers to the humanity lurking within Major's manufactured body. If
Ghost in the Shell
doesn't quite work it's ultimately because the film doesn't trust its own dark, strange ghost in favor of something bright, shiny, and obvious.