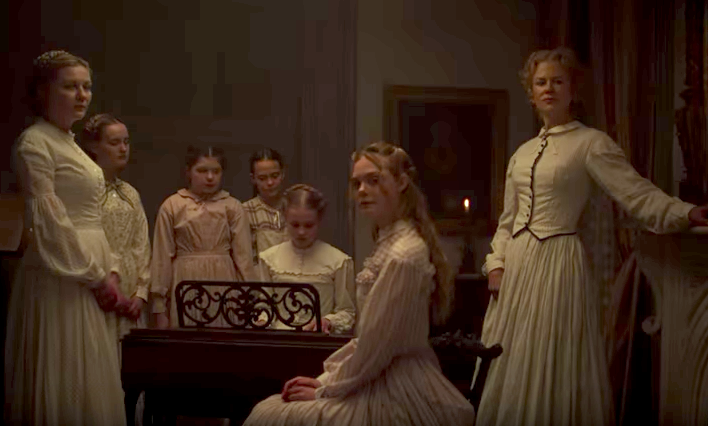 Virginia, 1864. A young girl named Amy (Oona Laurence) is picking mushrooms when she comes across a wounded Union Corporal named McBurney (Colin Farrell) in the woods outside her boarding school. Amy brings the Corporal to the school and their meeting is the beginning of Sofia Coppola's
The Beguiled
, a drama of last chances and unspoken hopes made with Coppola's usual understatement and without an ounce of storytelling fat. Coppola is the second director to film Thomas Cullinan's 1960's-written novel, and while I haven't seen Don Siegel's 1971 version with Clint Eastwood it is hard to imagine Siegel elevating the emotional lives of women the way that Coppola does here. (A glance at the
trailer
for the Siegel version suggests a different take on the McBurney character.) In Colin Farrell's performance McBurney is whatever the women need him to be- he's a friend to young Amy, a conversation piece to Jane (Angourie Rice), and at first an irritation to headmistress Martha (Nicole Kidman) - but the woman who pins most of her hopes on the Corporal is the lonely teacher Edwina (Kirsten Dunst).Coppola's screenplay never forgets that McBurney is a soldier in enemy territory, and Farrell's performance always carries the suggestion that McBurney is aware of what can be gained from each encounter with the women. When McBurney seems to achieve the upper hand after an act of violence the film points towards a bloody conclusion, but in the last shot Coppola reveals just where her priorities were all along.
Most of
The Beguiled
takes place inside the decaying mansion that now serves as Martha's school. Coppola puts all of the women in the same shot as often as she can, either in prayer or around the piano or at the dinner table. There is little camera movement until the film's last act, and the effect that Coppola and cinematographer Philippe Le Sourd achieve is one of stasis. Martha and her charges are trapped with the war ending and the Union Army closing in, and the addition of McBurney to the household only pushes the women together further even as emotional fissures are exposed. Coppola and Le Sourd also chose to shoot in a 1.66:1
aspect ratio
, which highlights the claustrophobia - we're always aware of how small the rooms are - and also evokes older films. As well-chosen as Coppola's visual strategies are, they wouldn't mean a thing if it weren't for her actors. Kirsten Dunst (who worked with Coppola in
this
) as Edwina achieves a moving plainness that I'm not sure she has ever been asked to play. Edwina, first seen teaching French to Alicia (Elle Fanning) and the older girls, sees McBurney as a way out and it's a tribute to Dunst that we're genuinely not sure she has ever imagined a different life before. McBurney seems to have feelings for Edwina, and when she begins to dress more boldly - wearing dresses that expose her shoulders - the effect is both touching and little awkward. Nicole Kidman plays Martha as a sharp knife under a blanket of good manners, and while I loved Dunst's performance I also wanted more of Kidman and Farrell together. The only performance I'm not sure of is Elle Fanning's as Alicia, who is moonstruck by attraction to McBurney but plays the character as a touch too pouty and modern.
The Beguiled
ends with an image of Miss Martha and her girls together, having achieved a measure of freedom but still very much prisoners of the world around them. The shot probably carries more weight now than even Coppola intended, but it's also another strong choice by a director in superb control of her effects.